Faculty Members Publish in Harvard Law Review and Other Top Journals
---
Faculty Members Publish in Harvard Law Review and Other Top Journals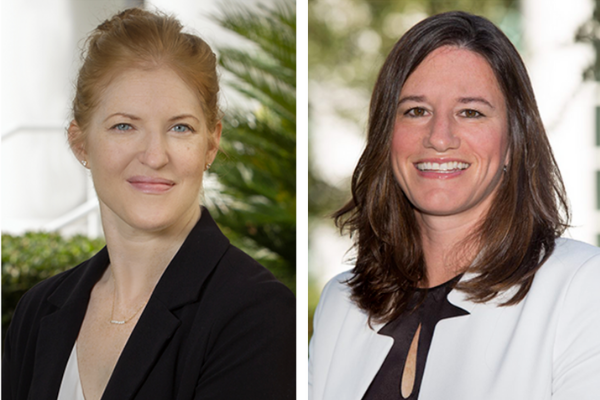 The FSU Law faculty has placed two articles in the top-ranked Harvard Law Review since 2020. Most recently, Assistant Professor Sarah L. Swan's forthcoming article, "Constitutional Off-loading at the City Limits," was selected for publication in volume 135 of the Harvard Law Review in 2022. Swan's article demonstrates that the ability to engage in constitutional off-loading comes at a substantial cost for small localities, while the prohibition on constitutional off-loading comes with a corresponding benefit for big cities.
Courtney Cahill, the Donald Hinkle Professor, published "The New Maternity" in volume 133 of the Harvard Law Review in 2020. The article argues that constitutional maternity warrants reform and asserts that one promising pathway of reform is family law's less regressive and more multidimensional vision of motherhood. Cahill and the article were honored with a 2021 Dukeminier Award, which annually recognizes the best articles on law and policy regarding sexuality, sexual orientation and gender identity. The article was cited as breaking "new ground in ongoing debates among legal scholars and practitioners in the LGBT community and beyond."
Several additional professors recently have published in other top law journals. Mason Ladd Professor and Associate Dean for International Programs David E. Landau co-authored an article, "The Uses and Abuses of Presidential Impeachment," that will be published in the University of Chicago Law Review in 2021; Associate Professor Michael T. Morley has a co-authored forthcoming article, "Interpreting Injunctions," that is slated for publication in the Virginia Law Review in 2021; Gary & Sallyn Pajcic Professor Avlana K. Eisenberg published "The Prisoner and the Polity" in the New York University Law Review in 2020; Steven M. Goldstein Professor Wayne A. Logan published "Crowdsourcing Crime Control" in the Texas Law Review in 2020; and Charles W. Ehrhardt Professor of Litigation Justin T. Sevier published "A [Relational] Theory of Procedure" in the Minnesota Law Review in 2020.
Published on June 11, 2021