Professor Abbott Addresses the COVID-19 Pandemic and the Global Response
---
Professor Abbott Addresses the COVID-19 Pandemic and the Global Response
Press Date
April 24, 2020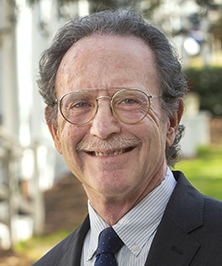 Tallahassee—Frederick M. Abbott, FSU Edward Ball Eminent Scholar Professor of International Law, has worked with international organizations, including the World Health Organization (WHO), for more than 15 years as they have worked to raise awareness of the potential for a global pandemic outbreak and have encouraged governments to invest in preparedness. He is co-chair of the Global Health Law Committee of the International Law Association that earlier this month released a statement regarding the COVID-19 pandemic. The statement reiterated "fundamental principles and rules of international law important to containing and ending the pandemic, safeguarding the rights of individuals and groups, and ultimately returning international society to a normal functioning state." The principles and rules address cooperation, support to the WHO, fundamental human rights, food security and trade, pooling and availability of technologies, temporary restriction to rights and freedoms, humanitarian assistance, ongoing conflicts, limitations to economic sanctions, the U.N. Security Council's role and international financial institutions.
More recently, as the federal government was announcing a suspension of funding for WHO, Abbott authored a piece for Health Policy Watch titled, "Confronting COVID-19 in a World Without WHO – Seriously?" and was quoted in the Bloomberg article, "Trump Is Urged to Limit Patent Rights on Ventilators, Treatments." This week, Abbott was quoted in a Bloomberg Law article, "Covid Seen as Tipping Point to Lower Drug Prices, Patent Sharing."
During 2008-09, Abbott prepared background studies for a WHO mechanism (the Pandemic Influenza Preparedness Framework) on sharing information about biological materials and genetic sequences necessary for developing vaccines and treatments. During the Ebola outbreak in 2015, he chaired a Global Health Security meeting in Geneva among a substantial group of government, industry and NGO stakeholders that identified gaps and potential solutions for the problems that arise during outbreaks. This included work on shortening timelines for developing vaccines and treatments for previously unknown viruses, as well as funding their production to address global requirements, including for low-income environments.
"Suggestions we were not prepared for this pandemic because 'we did not see this coming' are misaligned with reality," Abbott said. "Something very much like the current pandemic was anticipated by the scientific community and numerous warnings were conveyed. Governments and industry around the world were unwilling to make the investments that might have significantly reduced the severity of this pandemic (and future pandemics). It remains to be seen whether 'things will be different this time.'"
Published on April 24, 2020