Julianna Favale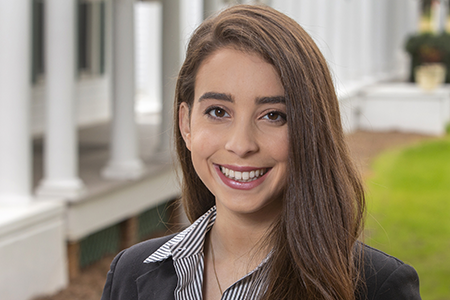 3rd Year
Undergrad
University of Florida
Hometown
Jacksonville, FL
Area of Interest
Corporate Law, Tax Law
Why did you choose the College of Law?
I chose Florida State University College of Law because its learning environment is unique from the average law school experience. It provides students with a very friendly and welcoming space to grow, learn and connect with peers without being overly competitive. The faculty and staff truly care about each student, and the smaller class sizes and lunch office hours with professors reinforce that personalized family experience.  
What do you feel is unique about the College of Law?
Being located in the state's capital is a major distinguishing factor about Florida State Law. The location opens the door for various jobs and internships. When I drive by the Capitol building and Florida Supreme Court on the way to school each morning, it is such a rejuvenating reminder to stay motivated and excited about law!
What has been the best experience you have had at the College of Law thus far?
One of my favorite events thus far was the Spirit Week FSU/UF flag football game. Seeing the law school Green filled with fans on both sides, announcers narrating each play and getting to play alongside teammates who became close friends, was such a memorable experience. 
What has been your most challenging experience in law school thus far?
A very challenging aspect of law school is learning to prioritize your health alongside your studies. Often it can feel like law school should be your one and only priority, and anything else will put you behind your peers, but it is all about balance. It is important to focus on what keeps you grounded, whether that be your family, friends, exercise, art, music, etc., because that will help you in times of stress. 
Which professor has been particularly helpful to you during your time at the College of Law?
Professor Christopher Busch has had a very positive impact on my law school experience! As my Legal Writing professor, he would bring donuts for the class during weeks he knew we all were particularly stressed. On top of being an excellent professor, he also provided real life advice about stress management and job searching. 
Share a fun fact about yourself.
I hiked the Inca Trail leading to Machu Picchu and climbed to 13,776 ft. at its highest point. 
Why did you become a Student Ambassador?
Coming from the University of Florida, I was originally very nervous about how I would be received at Florida State University due to the spirited rivalry between the two schools. However, the welcome I received from the students, faculty and staff from the moment I was accepted was unparalleled. I received a call from a Florida State Law/University of Florida alumnus, who made me feel welcomed and helped me through the transition. I also received calls from faculty and staff who answered my questions and quelled my worries as a first-time law student. As an Ambassador, I want to help new students feel as welcomed as I did from the day I received my acceptance.
Email
jrf17e@my.fsu.edu