Sarah Reynolds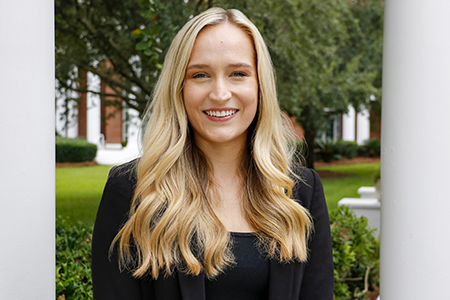 3rd Year
Undergrad
Clemson University
Hometown
Lamar, South Carolina
Area of Interest
Corporate law, intellectual property, real estate
What do you feel is unique about Tallahassee and/or the College of Law?
The College of Law is in the middle of the capital of Florida, but the way the campus is set up makes it feel particularly quaint. It is the perfect setting to make you feel motivated but also relaxed. Tallahassee has the atmosphere of a busy city, with a landscape that is beautiful and filled with nature.
How have you interacted with our alumni network?
Fortunately, through the College of Law's externship program, I was able to work in the legal department of a company where the CEO is an FSU Law graduate, which was such an incredible experience. I've also had the opportunity to connect with alumni through my involvement in the Real Property, Probate, and Trust Law Society and the Moot Court Team!
What has been the best experience you have had at the College of Law thus far?
The best experience I have had at the College of Law thus far is the three days of tryouts during 1L spring which led to me being offered membership on FSU College of Law's Moot Court Team! This was something so out of my comfort zone, but it taught me so much about who I want to be and further showed me that being uncomfortable can lead to the best experiences.
Which professor has been particularly helpful to you during your time at the College of Law?
Professor Charlee Taylor has made FSU feel like home since my first day in Legal Writing and Research during 1L year. She was my first connection to South Carolina, and now, I am her Teaching Assistant for Legal Writing and Research for 1Ls!
What did you do during 1L summer?
During 1L summer, I participated in a 9-week externship through the College of Law's In-House Corporate Counsel Externship Program. I worked for the legal department at SBA Communications in Boca Raton, Florida. For the remainder of my summer, I volunteered with the Legal Services of North Florida in Tallahassee.