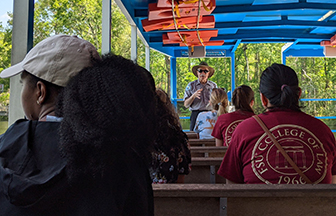 The College of Law's environmental law program is ranked the nation's 19th best, 9th among public universities, and tied for 1st in Florida by U.S. News & World Report. The Center for Environmental, Energy, and Land Use Law at Florida State provides a substantial number of environmental courses addressing climate change, land use regulation, ocean and coastal law, water resources, energy law, pollution controls, natural resource law, wildlife and animal law,  public lands, and international law; a student-edited scholarly journal in the area; and a certificate program that offers students a chance to signal their expertise. Students can take advantage of a wide range of offerings in related areas of study at Florida State University, as well as externship opportunities in Florida and Washington, D.C.
Our student-run Journal of Land Use & Environmental Law ranks among the nation's top 20 journals in environmental law. Our Environmental Moot Court and the Environmental Law Society are just some of the various other student organizations that our students participate in.
Our program features a faculty with recognized national expertise in a wide range of areas, including climate change, international environmental law, pollution control regulation, energy law, enforcement, land use regulation, and ocean and coastal law.
Environmental Programs
Environmental Law Certificate
LL.M. in Environmental Law & Policy
Joint Graduate Pathways
Aquatic and Environmental Science
Urban and Regional Planning and Law
View Our CCI Events
Recent & Upcoming Environmental Program Events
Follow Us On Social Media